The Boozy Brunch Round Up  
Boozy Breakfast Treats That Are Worth Waking Up For!
Caramelized Orange & Marmalade Gin Pancakes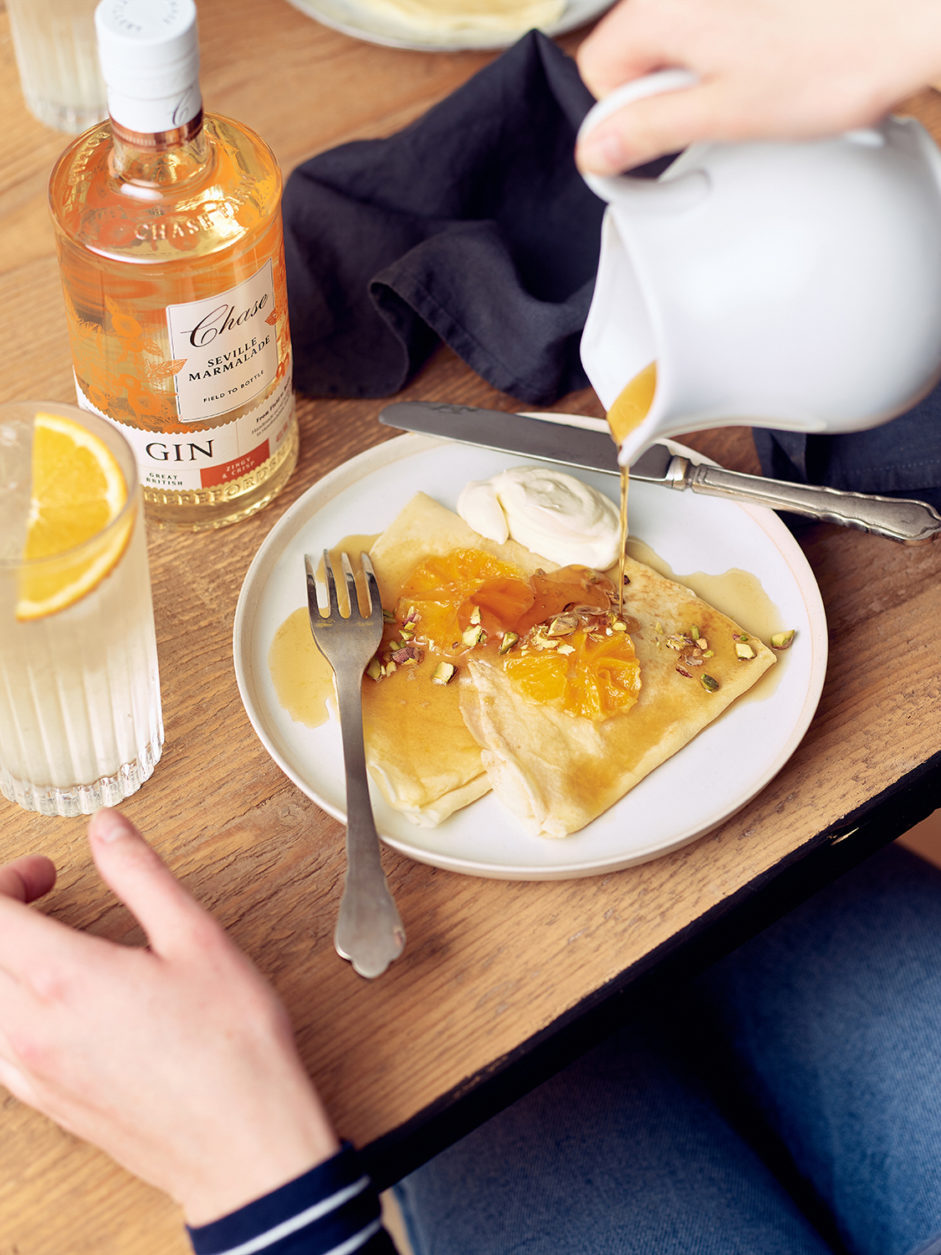 Pancakes
100g plain flour
2 eggs
300ml milk
A little oil for frying
Caramelised Oranges
3 large oranges, peeled and sliced
200g caster sugar
Zest of 2 oranges
Knob of butter
50ml Chase Seville Marmalade Gin (or to taste)
Mascarpone Cream
125g mascarpone cheese
250ml double cream
50g icing sugar
Vanilla bean paste
Method
1. Whisk all pancake ingredients together into a smooth batter and set aside whilst you make the oranges.
2. Take a heavy-based pan and add in the caster sugar with 200ml of water. Pop on a medium heat and stir occasionally until the sugar has melted and keep an eye out to ensure it doesn't burn. Add in the oranges, turn up the heat and allow the mixture to boil until a light brown colour.
3. Grate in the orange zest, stir in the butter and gin until thoroughly combined and oranges are sticky.
4. To make the Mascarpone Cream, add all ingredients into a mixing bowl and whisk until a thick consistency (be careful to not over whisk).
5. Finally, heat a frying pan with a little oil. Pour a ladle full of pancake batter in the pan then spread thinly and evenly. Cook until golden brown on the underside, flip and repeat on the other side.6. Serve all elements on a warmed plate and sprinkle with chopped pistachios. Enjoy!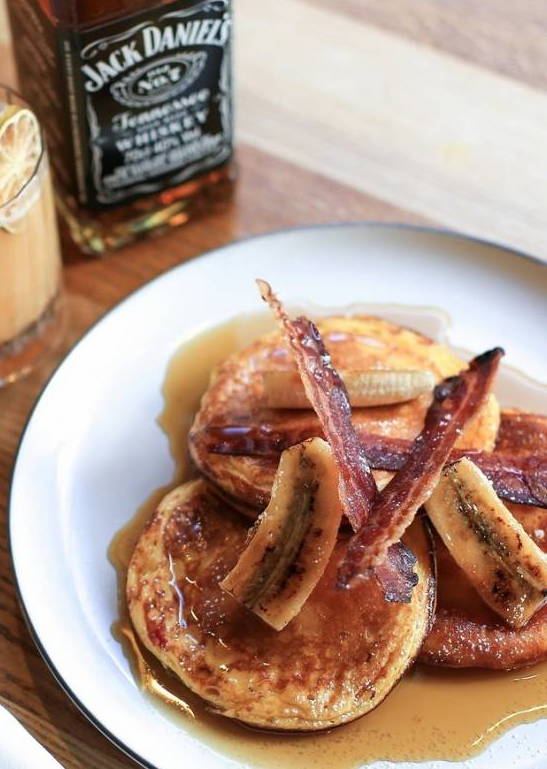 Ingredients
250g caster sugar
150ml double cream
50g unsalted butter
50ml Jack Daniels
10 slices of pancetta
150g walnuts
40g granulated sugar
25g unsalted butter
Method
1. Add the sugar to a saucepan with 5 tbsp of water and heat gently until it has dissolved.
2. Turn up the heat for around 5-6 minutes until the mixture has turned to caramel.
3. Whisk in the butter and Jack Daniels and allow to cool.
4. At the same time, lay the sliced pancetta between two baking trays on parchment paper and cook at 180C for 12 minutes.
5. Add the walnuts to a saucepan with the granulated sugar and unsalted butter.
6. Cook on a medium heat and stir until all the nuts are evenly coated.
7. Half the bananas and place under a hot grill.
8. Place the buttermilk pancake mix into a nonstick pan.
9. Cook on a medium heat until small bubbles have formed on top of the mix, for around 5-6 minutes.
10. Add your toppings and pour over your Jack Daniels caramel sauce.Serve and enjoy!
Indulgent Baileys French Toast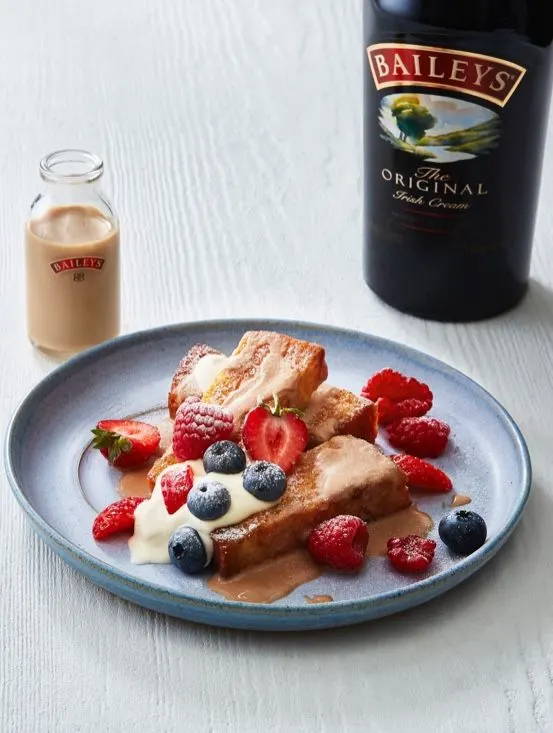 Bailey's Whipped Cream:
100 ml double cream
2 tablespoons Baileys
French Toast:
100 ml double cream
100 ml Baileys
3 eggs
1 teaspoon vanilla bean paste
1 teaspoon icing sugar
1 pinch salt
4-6 slices brioche bread, sliced thick
Topping:
raspberries
strawberries
blueberries
golden syrup
icing sugar
Method
1. Beat the eggs, cream and Baileys together. Pour over the slices of bread on a plate, let it soak in for a couple of minutes.
2. Melt the butter in a large frying pan over a medium heat. Then fry the bread slices for around 2 mins or until golden on each side.
3. Arrange the French toast on plates.
4. Top with a generous dollop of whipped cream mixed with 2 tablespoons of Baileys, handfuls of raspberries and blueberries, drizzles of chocolate sauce and golden syrup, and a dusting of icing sugar. Now, tuck in!